Best Online Slots and Casinos 2021
Compare top US online slots and casinos as well as how to play and win
Slot machines are the most popular casino games of all time. Why? Because they take you anywhere and offer real money prizes without requiring a dash of skill. Based on luck, head off to the African heartlands for jaw-dropping sunsets and safaris, travel to the future to conquer planets and meet aliens, or hit up ancient riches and lost lands - it's all possible. Slots are the one type of casino game where anything goes, including thousands of ways to win and even unlimited jackpots (play progressives).
Fancy getting your hands on Pizarro's pilfered Aztec treasures or Blackbeard's booty? Then walk the plank and come on the adventure that is playing online slots, starting with the list of top slot casinos below. Be sure to check the number of slots, the welcome deal, average RTP, and review score for each site before deciding which to join!
✅ Variable RTPs: 85-96% ✅ Suits all types of players ✅ Provides varied & immersive gameplay.
What the Best Slot Casinos Offer
The casinos that have made it onto this page are the best US-licensed slot sites in your state. Each of the listed platforms has passed the Casino Cabbie review process with flying colors and has a notable slots lobby that provides players with:
Hundreds of Free and Real Money Online Slot Games: All of the casinos listed on this page offer huge slot lobbies that include classic, video, and jackpot options. Pick a casino and dive in, playing for free or real money mode - it's up to you.
Varied Games Software Offering Different Styles of Play: The best US online casinos provide players with various software options from leading providers likes of NetEnt, Scientific Games, Big Time Gaming, and Playtech (among others) to create an exciting and varied casino experience.
Fantastic Welcome Offers and Regular Slot Bonuses: If you want the best experience playing slots online, then be sure to pick a casino that has a top-notch welcome offer and ongoing bonuses that'll keep you spinning for less (like tournaments and free spins).
Still not sure which of our recommended online casinos to pick? Then get more info by clicking on "Read the Review" in the toplist above, or use the total review score to highlight the best casino sites for slot players!
Did you know that each of our casino reviews includes a breakdown of what software each casino has, the number of games available (segmented by variants), and the min/max bet per game? Find out more via our casino reviews.
In Which States Can I Play Casino Slots?
If you live in the states shown below, then online real money slots are legal and you can play a US-licensed casino. Simply, select one of our sites, register, claim a welcome bonus and starting spinning to win!
What Type of Online Slot Games Can I Play at the Casino?
Believe it or not but game providers have been hard at work making slot games since the 1800s - pretty impressive, right? Modern online slots are vastly different from the earlier, hand-operated machines of the olden days. Instead of one-armed bandits and physical reels, players now operate games software created in studios by teams of mathematicians, storytellers, and artists (to name but a few).
Instead of being constricted by physical reels and slot machines, the only limit on modern slots is the developer's imagination, so the gameplay is now more complex as the move to modern software has created limitless opportunities for studios to innovate and create new slot ideas. But don't panic if you're a fan of the classic-styled slots; as you'll see below, you can still find plenty of original-inspired slots to spin at US online casinos.
The Classics
Classics refer to online slots that emulate original slot machines: these tend to feature fewer betlines and reels (usually 3, but sometimes 5).
While fewer betlines mean fewer ways to win, this slot style boasts higher symbol payouts, and due to the lower number of reels, makes players feel like they are hitting winning spins more frequently.
Video Slots
Video slots tend to focus on immersive gameplay and prize-filled bonus rounds. Providing more action and more complex gameplay than the classics, they feature a larger number of reels (5+), paylines (typically up to 9-243), and offer huge flexibility in approach and design. From cascading and tumbling reels to re-spins, free spins, wilds, and in-game bonuses, there's plenty of ways to win.
Most video slots also place greater focus on the narrative element of the game, favoring themes that provide the chance to create epic backdrops and impressive graphics.
Jackpot Slots
Jackpot slots are categorized by having a jackpot prize and can be a can classic, video, or new slots, as long as the game has a jackpot. The most popular type of jackpot slot is progressives.
Progressive jackpots work by adding a percentage of each player's bet from every spin to the jackpot total; the pot is then won when a player completes the bonus round. As progressives are extremely popular, the most played titles often award prizes worth millions of dollars. In fact, the world's two most popular progressive slots (Mega Fortune and Mega Moolah) have both broken records for the largest-ever slot game payouts, totaling over $20m.
New Slots
As a category of game, new slots is vast, and it's an all-in-one catchment term for any type of new slot release that delivers innovation. Be it a new mechanic, concept, or form of bonus.
The most striking type of new slot game in the last few years is BTG's Megaways™ (Megaways™ slots alter the number of ways to win with each spin of the reels), but it's not the only type of new slot game developed in recent years: first came 3D slots, then infireels, clusterpayz, and expanding reels (so there're plenty of groundbreaking games to explore in this category).
How to Play and Win Online Slots
Online slots are a game of luck: you spin the reels, and it's up to the RNG (random number generator) to produce a random result from the possible outcomes (which depending on the game, reels, symbols, and betlines in play can number hundreds of thousands of ways to win).
To win playing slots, all you need is to line up matching symbols on an active betline (some slot games have fixed betlines, others allow you to decide how many to play). Most online slots come with around 10 symbols; each symbol has a different worth and pays a different amount depending on how many characters you match (usually, rewards are given for 3-5 symbol lines).
The rules, payouts, symbols, and ways to win differ with each game, and you can find all game rules, including payouts and bonus symbols, in the game's paytable (load up the game, locate the 'i' icon on the reel frame, and click it).
To start playing:
Select a recommended online slot game casino from this page, signup, and claim your welcome bonus. Then head to the games lobby.
Pick a game and load it (you can choose to play in real money mode or demo mode at any of our top slot casinos).
Once the game is loaded, check the bet level and game rules.
Adjust your bet level, click spin and see if any matching symbols line up on a betline.
If you hit a win, the coins will automatically be added to your balance; if you lose, your stake is deducted.
Spin, win, and repeat.
How Much Does it Cost to Play Online Slots?
Every slot game has individual limits, and the price per spin depends on the number of paylines and the number of coins you want to stake per line (this makes the total bet). The range of bets that casino slots offer tends to be between $0.01-500 per spin, and the higher your bet, the higher the potential payouts. Most games have starting bets between $0.01-0.20.
Understanding Slot Game Paytables
If you're new to slot machines, it might take you a minute to decode the paytable, but all the key information regarding the game rules, payouts, and bonus rounds can be found here. Some players struggle with calculating payouts as different slot providers display this information in various ways.
Opt 1: Real Money Payouts
Some slot game providers, like Quickspin, have done away with the need for calculating payouts by creating paytables that change in real-time depending on your bet. Just set your bet level and check the payouts.
Opt 2: Coin Payouts
The second option is a little more complex as it shows payouts in coins. The value, therefore, depends on the coin worth you've selected and the bet level set (the bet level is the number of coins bet per line, usually 1-10). In the case of coin payouts, the amount shown is based on bet level 1.
So, if you score a betline win with 3x the first symbol shown in the screengrab, and your coin value is set at 0.50 with 1 coin staked per line, you would win 40 coins (divide by 2, because each coin is worth 0.50) which is a $20 payout. Calculating this with a bet of 10 coins per line and the payout would be 400 coins, meaning a $200 line win.
This might sound a little complex at first, but once you've got into the swing of it, you'll start appraising paytables at a glance.
How to Trigger and Beat the Bonus Round in Casino Slots
In almost all slot games (excluding classic slots), the biggest rewards are in the bonus round/s. There are several bonus round types that slot creators recycle:
Wilds (expanding wilds, sticky wilds, etc.): The main function of a wild is to act as a bonus symbol and help players form winning bet lines as this symbol can substitute for any other in the game (excluding other bonus symbols).
Depending on the game rules, wilds can come in many variations, like sticky wilds (that stay in place on new spins), expanding wilds (that grow to cover whole reels), and multiplier wilds.
Free Spins: These are the most popular type of slot bonus rounds, and are usually a feature of all video slots. Free spins are triggered by collecting scatter symbols and take place on separate reels with extra bonus features, like extra wilds or higher worth symbols.
Free spins don't cost you anything, and the bet level will be the same as the triggering spin. It's typical for slots to award anywhere between 5-100 free spins, and these can be re-triggered or not during the round.
Click and Pick Bonuses: Less frequent but highly popular are click and pick bonuses. Collect bonus symbols to fire the round, then click and pick mystery boxes or symbols for prizes, multipliers, or a jackpot.
Bonus Wheels: The bonus wheel is another type of slot bonus typical to jackpot slots, like Mega Moolah and branded titles like Wheel of Fortune. You'll earn the bonus in the base game by collecting corresponding symbols, then get a spin of the prize wheel for extra goodies or sizable payouts. You may also find bonus wheels used as a pre-bonus round to decide what type of bonus you'll get, say free spins, a multiplier, or a cash win.
As all slot games are based on luck, there's no way to beat the bonus round; the outcome depends on the luck of the draw. But, as bonus rounds have increased chances of higher-paying prizes, features, or symbols, this is the area of the game you want to get to and quickly.
To facilitate gaming on demand, some slot developers include bonus buy or feature buy buttons. Opting to buy a bonus is not available in all slots, but where it is, it can cost anywhere between 20-100x your stake, so consider the option carefully - it's not cheap.
How Much Can I Win Playing the Best Online Slots?
The exact amount you can win playing casino slots depends on the game, but generally, this type of casino game offers big payouts, which are expressed as a multiple of the total bet, say 10,000x (in recent years, these numbers have been getting higher and pushing the boundaries of betting further).
One of the top reasons players love slots is that they offer high payouts with average RTPs of 96%. Plus, they do not require skill to play, unlike table games: simply set your bet, spin, and see if you win.
In terms of bankroll management, you should note that the average spin rate for online slots is 10 per minute. Meaning at 10c per spin, you'd spend $1 a minute or $60 an hour. If a game has an average RTP and pays the average rate, you should earn $57.60 of that back, with the house earning $2.40, but as we'll explain below, slots do not pay out equally across players, and should you hit the bonus round in that hour, or multiple features, you'd stand to win more, and vice versa.
Best Online Slots Strategy to Win More
As games of chance, there's no golden winning strategy with online slots. However, you can manage how you bet and pick titles with better payout statistics to increase your winning chances.
Bankroll Management: Set your bet to ensure that you can spin for long enough to hit the highest paying rounds of the game. For example, video slots all come with bonus rounds, and this is where the largest payouts are: you'll need to spin for long enough to access the bonus rounds without burning through your bankroll in several minutes, but also have a well-set bet for when you do hit the bonus, as it's played at the same bet level, and always has more features.
How to Pick an Online Slot Using Game Statistics
There are a couple of convenient statistics that players can and do use to guide them in selecting which slot games to play. These stats are better known as RTP and volatility. They indicate how a slot machine pays out and can help you understand more about a game before you play.
Slot RTP
RTP stands for Return To Player. It is the amount of total bets (100%) returned to players (as a whole) and the amount the casino keeps. If a slot game has an RTP of 96%, then as a TOTAL, the game returns 96% of all bets and keeps 4% (the house edge). The higher a game's RTP, the more it pays, but RTP reflects the total activity, not a single player's experience.
Slot Volatility
Slot volatility indicates roughly how often a slot machine will produce a win and is indicative of the size of the win. Experienced players will know well that with some titles you feel like you're always winning, and others provide long dry spells: volatility describes these patterns.
High volatility slots tend to offer infrequent wins but high-value ones.
Low volatility slots offer frequent but lower value wins.
And medium volatility games are crowd-pleasers, offering an experience between the two poles.
Using both RTP and volatility, you can select the best slot games that payout and do so in a manner that you find most exciting: small and regular wins or less frequent, larger wins. And of course, don't forget to take the theme, graphics and bonus rounds into account when searching for the perfect game!
Best Casino Bonuses for Slot Players
As the most popular type of casino game, most casino bonuses are eligible for online slot games. Plus, claiming casino bonuses is one of the best ways to increase your bankroll at the casino. These are some of the best casino bonuses for slot players.
Welcome Deals with Free Spins
Welcome deals are the biggest casino bonus offered to players, and the great news for slot fans is that this bonus is often twinned with free spins, so you can start spinning to win online slots for real money with no deposit.
Reload Deals
Reload deals usually offer a deposit match or free spins to players who make repeat deposits. Make the most of each deposit by playing with a site that values returning players!
Slot Tournaments
The best type of casino bonus for high-thrill slot players is, without a doubt, tournaments. Tournaments offer jackpot prizes at the cost of a set buy-in, and players compete to be the first to complete set missions and top the leaderboards. Take a look at our tournament casinos in the toplist above. You can see the number of slots featured at each casino and whether it hosts tournaments or not, plus the welcome deal on offer.
Loyalty Clubs - Heck Yes!
US Casino loyalty clubs are one of the best all-around deals for US players. You play and load up your account as usual, and as you play, you'll earn loyalty benefits and climb reward tiers.
Once you begin hitting the points threshold, you can exchange them for real-life rewards at the partner land-based (or online) casinos and resorts, in some cases around the world!
Best Mobile Slot Games
Mobile slot games are now commonplace as more than 60% of players gamble from their phones globally. As such, all new and most older slot games are now coded in HTML5 so that players can access them on any device. Spin to win at any of the casinos listed below; each has a US-licensed mobile casino app for iOS and Android players, so you can signup and start playing in minutes.
Best Online Slots to Play: By Popularity.
1. Starburst: NetEnt. RTP 96.01%.
Starburst is a legendary slot that's been dominating the industry since its release in 2012, to the point that some experts figure that it must be one of the most spun slots of all time. Casino games don't come more iconic than this video slot which has 5x3 reels, 10 paylines (win both ways), respins, and expanding wilds, plus prizes up to 50,000 coins.
2. Gonzo's Quest: NetEnt. RTP 96%.
Gonzo's Quest is an ageless classic from NetEnt, and like Starburst, it's one of the studio's most popular games. Based on Gonzalo Pizarro's tale (a famous Spanish explorer, leading exhibitions to Peru and the Amazons), the slot version follows in the explorer's footsteps as players hunt for hidden treasures in the lost city of El Dorado. The game set up is 5x3 reels with 20 paylines and includes avalanche reels with re-spins, multipliers, and free spins.
Bonanza is a slot that shall forever go down in history as a revolutionary game: it was the first Megaways slot developed, and the first casino slot to offer hundreds of thousands of ways to win. Thanks to BTG, players can enjoy a plethora of games with reels that are modified in-play and where each spin alters the number of symbols and ways to win, creating evermore jaw-dropping games. We won't say much more other than this is a must-spin slot, and if you're yet to try out a Megaways™ slot, then this is undoubtedly the title to kick-off your adventure.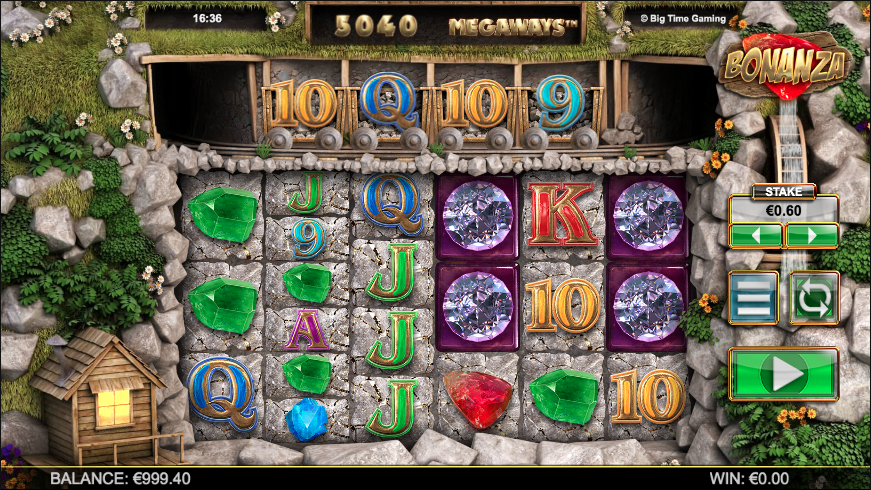 4. Raging Rhino Slot: WMS. RTP 95.91%
Raging Rhino Slot was released two years before Megaways™ was invented and at the time of its release was a trailblazing title offering 4096 ways to win (the most paylines available in 2014). Raging Rhino is an animal-themed slot set in the heart of the African heartlands and comes with wilds, win-both-ways reels, and free spins, meaning the action feels endless. Today, you can choose between playing the 2014 edition or the 2020 Megaways™ remastered version; we prefer the original and highly recommend taking it for a spin.
5. Da Vinci Diamonds Slot: IGT. RTP 94.93%.
Da Vinci Diamonds is the oldest slot on this list (released in 2007) but it's an unforgettable, arcade-style slot that players can't stop spinning.
Set on 5x3 reels, it's based both on Da Vinci's artwork and diamonds, and comes inclusive of tumbling reels, wilds, scatters, and free spins. Plus, the cost of a spin starts at just a cent so anyone can get in on the action!
Which Slot Machines Payout the Most?
RTP in slot games varies with each title. Usually, providers develop games that stick to the average (between 95-96%), but that's not always the case. If you're looking for online slots that pay the most, start with these titles.
US-Licensed Slot Providers
Each game provider has its own approach to slot mechanics, payouts, and design. Click on any of the US-licensed casino game providers below to find out more about the studio, including the type of games each makes and their top titles.
Located Outside A Gambling State or Looking for Free Slots?
If you're living outside of NJ, PA, WV, MI, and DE, then sadly, it's not yet legal for you to play real money casino slots. But don't panic. Instead, you can signup and play free slot games at a Sweepstakes Casino.
These site provide top-of-the-line free play slot games and tables. Our top-rated sweepstakes casino is BetRivers.Net - click the link and you'll go directly to the site where you can register and start spinning.
Where Can I Find Out About the Latest Slot Game Releases?
Want to find out about and play the latest slot releases? Then check out the weekly Casino Cabbie Weekly Digest for all the hottest new games and industry news. As we know, you guys love online slot machines, every Friday, we published the new releases, meaning you'll always be up to date with what's going on and what's new to spin!
Enjoy Free Slots with Casino Cabbie
Did you know that you can play almost every casino game in demo mode? Demo mode means playing in practice mode and allows you to experience playing different slots games and testing different game providers without spending a penny. While you can't win money either, demo mode is a great way to test drive other titles and get a feel for a game - what's more; it's also great fun!
Free Slots vs. Real Money Slots
| Real Money Slots | Free Casino Games |
| --- | --- |
| Play online and win real money. | Play for free and enjoy unlimited risk-free play. |
| Claim casino bonuses and play more. | You don't need a bonus as you're playing for free. |
| Enjoy the best online games, software, and payouts of 94%+. | Play is not limited to a cash balance. |
| Lose real money. Play limit to bankroll. | No real money prizes are available. |
Play Real Money Slots at Top USA Casinos
Ready to get in on the action and start playing the world's most played and celebrated casino game? Then scroll back to the online slots casino list at the top of this page and select a Cabbie verified site to play with. If you want to find out more about the casinos before joining, read the review, and don't forget to claim a welcome bonus so you can start spinning the best real money slots for free! Or perhaps you're looking for something a little more special, then check out our best real money slot casinos for this year.
Discover More Real Money Casino Games
Online Slots FAQs
How do online slot machines work?
Online slots consist of reels, symbols, and paylines. The most basic premise is: a player stakes a bet and clicks spin, the reels spin, and when they stop, if matching symbols fall on an active payline, the game pays out. Winning combinations are usually made up of 3-5+ symbols.
The game consists of both higher and lower-paying symbols and bonus symbols, which trigger extra game rounds like free spins. The bonus rounds are the hardest part of the game to reach and have the highest payouts.
Slot games used to be physical machines with the symbols painted on the reels and, therefore, a limited number of outcomes. Modern online slots are created by computer software with the reels and outcomes no longer constrained or fixed. Instead, the potential outcomes are programmed, and the game, using a random number generator, randomly selects the outcome of each spin based on the options available. While modern slots have become far more complex with hundreds of thousands of ways to win, the premises remains the same: bet, spin, match symbols, and win.
Where can I practice playing free online slots?
You can practice playing slots for free with us; click the free slots tab at the start of this page and take your pick from the Casino Cabbie free play lobby, or you can signup to a casino and play in demo mode.
How do progressive jackpot slots work?
Progressive jackpots take a small portion of each player's bet, adding it to the jackpot prize. Hence, the more people playing a progressive jackpot, the quicker it grows. However, this also means more people competing for a single prize pot, which is why some experts advise playing smaller, less busy progressives.
Be aware that if you plan on playing a progressive jackpot slot, it's essential to read the rules beforehand. Some have specific rules such as; only players using max bet can play for the jackpot, or bet size correlates with the probability of hitting a jackpot prize.
Do people actually win money playing slots?
Yes, millions of players around the world win money playing slots every day. As slot games are tested, fair, and payout, players actually win money on slots, but whether you win or lose is down to luck.
How do I know if a game really pays out?
To find out the rate at which a game pays out, check the RTP; this is an independent and audited figure telling you how much a slot game pays out vs. the money put in.
What is the most ever won playing online slots in the USA?
The most ever won by a person playing an online casino slot is just over $24 million. The anonymous player struck lucky taking a 25c spin on Mega Fortune Slot (NetEnt) in January 2013, playing through all 3 Jackpot Rounds and winning the Mega Jackpot - what a night!
What about the biggest land-based wins? Well, while we're on the subject, the largest-ever progressive slot land-based win took place at Excalibur Resort, Vegas, and saw a 25-year old software engineer win $39.7 million on Megabucks Slot (IGT).
What are the best paying online slots?
There are two US slot games that have RTPs of 99%: Mega Joker and Monopoly Big Event. If you want to check out our top 10 highest paying slots and which online casino to play each at, check out "Which Slot Games Pay the Most", on the page above.
What is the best online slot casino for US players?
Are online slots legal in the united states?
Online slots are only legal at US-licensed casinos in New Jersey, Delaware, Michigan, West Virginia, and Pennsylvania. If you are not located in one of these states, you can play free slots at a US Sweepstakes Casino.
How to win on slots?
To win on slots, you need to bet, spin and match symbols on active betlines for cash payouts. Each slot has slightly different rules, all of which you can read in the paytable.
What online slots can you win real money playing?
You can win real money playing online slots at any US-licensed online casino. Some of our favorite high-paying slot games are Mega Joker, NetEnt (RTP: 99%), Monopoly Big Event by WMS (99%), and Joker Striker by Quickspin (98.11%).