News and Analysis
Delaware Revenue Increased in December
Delaware's figures are in for the last month of 2022 and detail YoY increases in sports betting and iGaming revenue. The total revenue for December was up a whopping 56.4% compared with December 2021. Delaware Park continued its reign as the top casino in the state, followed by Bally's Dover and Harrington Gaming in last place.
Skillzzgaming Gains US access through PariPlay and BetMGM
Skillzzgaming has hit New Jersey, gaining market access through BetMGM Casino and PariPlay's Fusion platform. PariPlay's Fusion platform's third-party content has only recently become available in NJ, significantly boosting the number of approved casino games available in the state.
Eran Sharar, CEO at Skillzzgaming, commented:
"Finally launching in the US is a fantastic achievement for us and BetMGM is a major player in the space so we couldn't be happier…Through the Ignite programme, we have been able to propel our development process and going live in the lucrative US market is a highlight in the studio's journey so far."
Mississippi Goes for Legal Online Sports Betting
A bill seeking to legalize online sports betting has passed the Mississippi state House reading and moved to the House Gaming Committee. Retail sports betting was legalized in Mississippi in 2018. However, regulators have struggled to pass an online bill since, with the last attempt in January 2022. HB 606 would amend the Mississippi code of 1972 and allow online bets on sports events. We'll bring you more news on this bill as things progress.
Michigan Records Overall Decline for 2022
The Michigan Gaming Control Board has released revenue figures for December, confirming a year of falling revenues for the Wolverine State. December saw a 2.6% drop in gambling revenue, with the year 1.41% down on 2021's total figures. Across the year, slots generated 77% of total revenue.
Las Vegas Sands Joins the NY New Casino Fray
This week, Las Vegas Sands announced that they are entering the ring and taking a bout at securing one of the three new retail casino licenses available in New York. Sands plans to build a Long Island resort that would be "a multi-billion-dollar flagship hospitality, entertainment, and casino project." Plans include Sands taking over the Long Island lease from the Nassau Veterans Memorial Coliseum, giving them control of 80 acres, 10% of which would be used for the resort.
Tipico Launches in Iowa
Tipico is live in Iowa after securing state access from the Iowa Racing and Gaming Commission. The sportsbook is active in four US states, having already launched in New Jersey, Colorado, and Ohio.
New Jersey Revenue in for December
Gambling revenue in NJ has hit over $5bn for 2022; that's a 10% YoY increase, a figure that hasn't been matched since 2006. Online gaming was up 21.6%, driven mainly by slot revenue, with Borgata Casino taking the top spot as the highest online earner.
Poker Bill Put to New York Assembly
HB 1380 has been introduced in NY and seeks to legalize online poker by reclassing it as a game of skill. Two previous bills, one in 2019 and one in 2022, have also aimed to regulate online poker and online casino games, but both failed.
North Dakota Bill Moves to Senate
The latest North Dakota gambling bill (House Concurrent Resolution 3002) has passed the state's House, progressing to the Senate. The bill would amend the state's constitution to allow sports betting if passed.
Game of the Week
Fruit Blast Slot, Skillzzgaming
Celebrating Skillzzgaming's debut in the US, this week we're bringing you a classic, fruit-themed number from the studio; Fruit Blast. It's a cluster pay slot, set on 5x5 reels, with simple rules and level-up bonus rounds.
To start winning, you need to form three symbol-matching clusters. You can then decide which symbol to blast, and it will be replaced with new symbols giving you a second chance to make more wins. To the left of the reels, you'll see fruit meters; once you've filled a meter by blasting fruits, you'll get a special payout. The more you match and fill, the more you level up.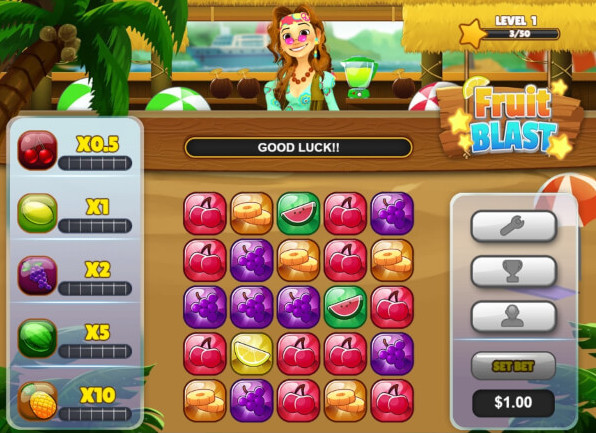 There are eight levels to complete, and each comes with progressively better prizes, played on a different grid with bonus features facilitated through "bartenders." Each bartender delivers a unique mix of payouts during happy hours, dance nights, pick-and-win rounds, and more. Plus, there's even a jackpot payout of up to 1,000x your bet should you score lucky!
Ready to try out a Skillzgaming title? Then hit up the reels at any of these US-licensed Skillzzgaming Casinos now.